---
---
---
February 24, 2009
Why this list? I don't know; I like lists! This is something I've thought about for awhile, but I've never had the organization skills to execute this idea. Well, I stopped bothering with some things (Sure, the west half of my house is on fire, but who cares?!?) so I could finally create the awesome list you're about to experience.
Just to be clear, these are my top ten working artists. All ten of them produced interior work on at least one comic last year. Enjoy!
10. Ed McGuinness
McGuinness is the Wolverine of comic artists. He's the best there is at what he does. And what he does is draw big muscular cartoony fun! Hulk is the PERFECT book for him. The man was born to draw it. Throw in an extensive Superman (And later Batman) run and you've got plenty of pretty beefy heroes to look at. Did I mention that his art is a fantastic model for toys as well? Check it out! Sure, he doesn't have much range and he's a bit lazy, but if I ever need anyone to find a vein on my arm, I'll go to him!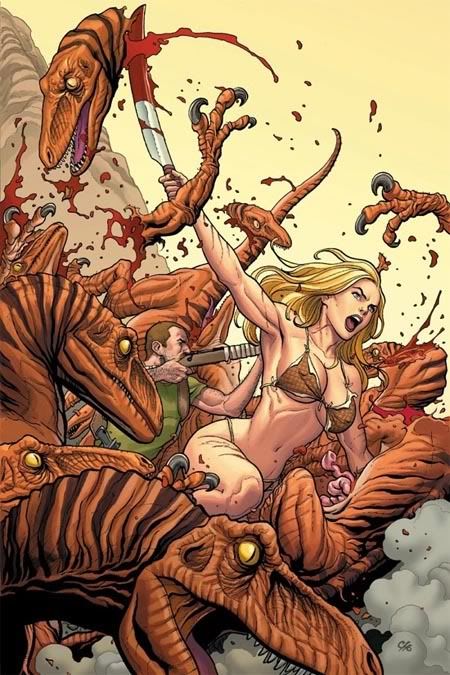 9. Frank Cho
After criticizing EM's range, I put Frank Cho? Am I crazy? Maybe, but Cho does actually have some range. Go check out his Spider-Man issues with Mark Millar. Sure MJ had big boobs, but his Venom was badass. He also renders some fantastic animals. Who draws Dinosaurs and monkeys better than Frank Cho? And yes, he draws some bodacious babes, but is that really such a bad thing? Yes they're a bit crude, but it works with an American audience. We're a bit too uptight when it comes to the female form. Cho just puts it out there. Too preachy? I like big boobs. Better? The fact is his women are tough, sexy, and usually pretty muscular. They can kick the shit out of the men. That's a kind of female power, right?
8. Steve McNiven
Good, we're away from the cartoons. Steve McNiven is pretty new to the art scene. Ok, he's been in the biz for about eight years, but I can count his projects with my fingers. I've always considered myself a fan of the man's work, but his most recent project, Old Man Logan, is what got him on the list. Have you seen that stuff? It's fucking epic! He's created an entire future Marvel Universe, aged character designs, and zany stuff like a Venom T-Rex. He's nailed them all. There's no doubt in my mind that in ten years when fans discuss the best Wolverine artists, McNiven will be mentioned in the same sentence as Frank Miller and Barry Windsor-Smith. As if that weren't enough, he also did a stellar job on Civil War, and whether you enjoyed that event or not, at least you were treated to some gorgeous images.
7. Tim Sale
Say what you want about Jeph Loeb, but when he and Sale get together, you get magic. I just picked up that new Daredevil Yellow hardcover a few weeks ago and Sale's art was absolutely mystifying. His Daredevil is poetic. Sale captured the fallen hero, Battlin' Jack Murdock, perfectly. Don't even get me started on his Karen Page. Lois Lane, Mary Jane, Gwen Stacy, Selina Kyle, Tim Sale has rendered some of the most iconic women in comics and yet he always brings something new to the table. Sale is an expert at taking old characters, blowing off the dust, and making them look all shiny and new again.
6. JH Williams III
Whoa! JH Williams III is number six? How the hell did that happen? Because Williams is awesome, that's why. He's an artistic chameleon. If you read his three-issue arc in Batman recently, you'll know that every member of the Club of Heroes had a different art style. El Gaucho is Howard Chaykin, The Knight and the Squire are Ed McGuinness, and so on. On top of that, Williams has some of the most interesting layouts in comic history. If you want to see some expert graphic design, Williams is your man. How he presents his art is almost as intriguing as the art itself. Heck, the only reason why Williams isn't higher on the list is his lack of content (Or perhaps my lack of reading his content), but with an absolute Promethea volume and his long-awaited Batwoman run coming up, Williams is sure to make my top five soon.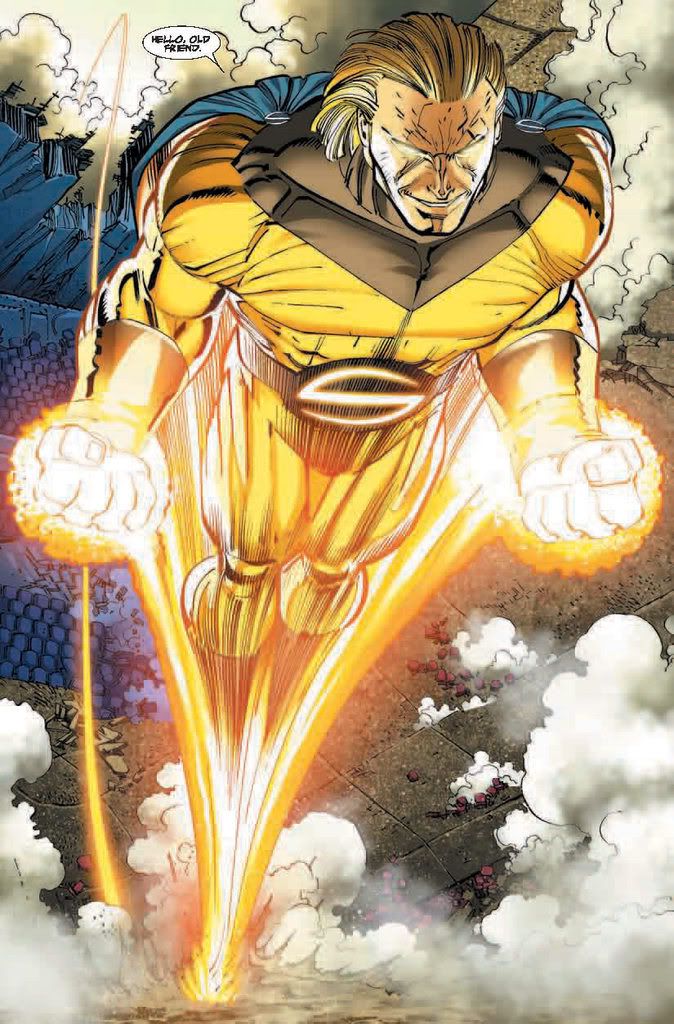 5. John Romita Jr.
And speaking of Williams' lack of content, here's a man who has too much content. Romita has been in the biz for nearly three decades. That's awesome, but what usually happens to artists over time is that their style gets boring. Not so with Romita, his style has evolved. Going from the traditional look of his Iron Man days, to the Kirby/Miller amalgam, Romita has proved that he's still one of the best. Want proof? While some of the artists on this list (Even those ahead of him, sadly) produce only a few issues a year, Romita is the opposite. In just two years, he worked on a Neil Gaiman project for seven issues, a mega Marvel event for five, a six-issue return to Spider-Man, and an entirely new property with Mark Millar. Throw in directing part of a movie (An illustrated Kick-Ass segment) and you have one fabulous work ethic!
4. Joseph Michael Linsner
This is where you can stop calling my list predictable. What can I say? I feel a deep connection with Linsner's work. There are times when I think he's my favorite artist. His style is Cartoony yet realistic. Linsner's women are cheesecake, yet independent and strong.  The man's work is truly transcendent. I can just stare at for days and days. The Hulk is probably a poor example (Though funny), but please go check out his work. If you feel half the connection with it that I do, it'll be a wondrous experience.
3. Alex Ross
What's a "best comic artists" list without Alex Ross? Actually, when I was compiling this list, his name slipped my mind. Terry Dodson was on for quite a while, but eventually (Sorry Terry), an image of Kingdom Come Superman blazed across my mind. How is it, that a character that said so little and was part of so few stories can be as incredibly inspirational as Kingdom Come Superman? I blame Alex Ross. He brings such power and solitude to the grey-haired Man of Steel. It was hammered home this year; KC Superman is the symbol for the man who has unimaginable power, and yet he can't save the ones he loves. A much bleaker ending than the one Jeph Loeb gave him in Absolute Power, but it's still undeniably moving. Though Ross spends a little too much time rendering covers and writing nostalgic tales for my taste, Justice, Marvels and Kingdom Come are so well-crafted that he easily earns a spot on the list.
2. Frank Quitely
Remember what I said about Sale and Loeb being magic? Well, that goes triple for Grant Morrison and Frank Quitely. See that picture above? Why did I choose that instead of something like New X-Men and All Star Superman? Because you already know those are great, but you may have never heard of We3. You should definitely read it because it's fantastic, and that's what every project is that Quitely works on. His art is truly unique and I mean that in the best possible way. Quitely handles everything, action, facial expressions, and emotion, all of it, like the master he is. The only reason Quitely isn't number one is because his art has greatly evolved into marvelous beauty within the last five years. My number one, however, has always been at the top of his game.
1. Jim Lee
I never thought Jim Lee would be my number one. It makes sense; Batman is my favorite hero, so it's only natural that the quintessential Batman artist is my favorite. Lee has always demonstrated greatness. Whether your first experience was X-Men, WildC.A.T.s, Batman, or even way back to Punisher War Journal, you were probably impressed. He's worked on a few bad projects, sure. That won't stop you from gazing at his beautiful interiors though. Why do you think All Star Batman and Robin is a best-seller? Its gloriously groundbreaking dialogue? I think not. Whether the words accompanying his art were good or not, I've always enjoyed Lee's renderings immensely.
So there's the list. I doubt you'll agree completely. "Good art" is purely opinionated. I only wish that if you haven't heard of one of these talented men (Why isn't Amanda Conner on the list?), you'll go check them out. Hopefully, you're in for a treat.
---
---
---
---
---
---
---